REH55T/65T/75T
BLOWN FILM MACHINE WITH OSCILLATING HAUL OFF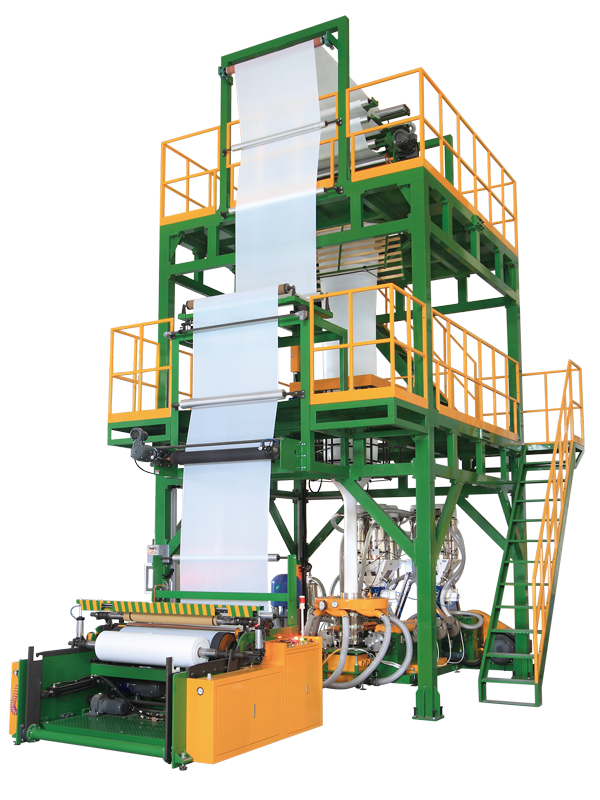 Most Mono layers models can become an Oscillating Haul Off Model with a stronger structure.
AC inverter motor design for better production and reliability.
High torque gearbox with enforce lubrication system to minimize machine down time.
High mixing quality screw and barrel results in good homogeneity and high output.
Horizontal oscillating haul-off unit allows minimum web tension that eliminates wrinkle problem.
High volume air ring design for perfect cooling efficiency.
Auto Feeding Loader.
Melt Pressure and Temperature Device.
Manual Double Screen Changer.
Rotary Die Device.
Extra Die & Air Ring.
Embossing Roller.
Surface Treater.
Back to Back Station Winder.
Air Shaft
Electric Tension Control.
Air Compressor.
Air Chiller.
Model

REH55T
REH65T
REH75T
Aplicable Material
>HDPE/LDPE/LLDPE
Max.Film Width
1000
1200
1600
Thickness of Film
>HDPE:0.008~0.07 LDPE:0.012~0.2
Max.Extrusion Output
140kgs/hr
230kgs/hr
280kgs/hr
Extruder
Screw Dia.& L/D
Ø55MM
L/D=28
Ø65mm
L/D=30
Ø75MM
L/D=30
Main Motor
40HP AC Inverter
60HP AC Inverter
75HPAC Inverter
Screen Changer
Manual Double Screen Type
Manual Double Screen Type
Manual Double Screen Type
Die & Air Ring
Die Dia.
HDPEØ70~Ø120
LDPEØ120~Ø220
HDPEØ100~Ø175
LDPEØ180~Ø250
HDPEØ150~Ø225
LDPEØ200~Ø350
Bubble Cage
Cage Bakelite Type
Cage Bakelite Type
Cage Bakelite Type
Oscillating Haul-off Unit
Take-up Roller
Ø185 X 1050
Ø185 X 1250
Ø185 X 1650
2nd Take-up Roller
Ø80 X1050
Ø80 X1250
Ø125 X 1650
Max.Take-up Line Speed
100m/min
100m/min
100m/min
HF Auto Winder
Film Wind-up Roll Dia(max.)
Ø900mm
Ø900mm
Ø800mm
Machine Size(L X W X H)
5.2X3.5X6.5(M)
6.6 X 3.8 X 9.0(M)
7.0 X 4.1 X 10.0(M)
Specifications subject to change without notice.