AV-PBSS905-O,1005-O
BLOW MOLDING MACHINE SERIES AV-PBSS 905-O,1005-O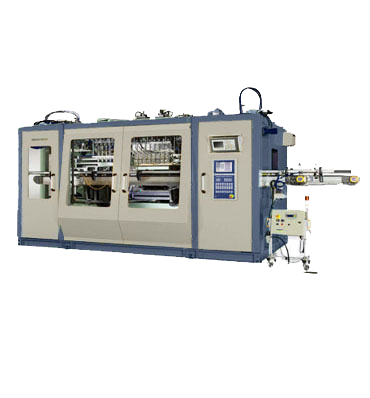 It is designed for small containers Mouth-to-Mouth design. Mouth-to-Mouth design can improve two-time production for double-station machines.

It creates a unique and new mold design and auto cutting device. It can increase machine stability and decrease defective rates. This is the latest high-production machine technology.

Powerful 4 tie-bars type mold clamping system combined with 8 die-head design.

It can produce any kind of small and medium container at high speeds.

Available to equip with auto de-flashing device and take-out robot to achieve fully automatic and highly efficient production.

It can also equip with specialized take-out robot and conveyor to take out products from single side in order to have convenient production-line formulation.
Model

 Product Max. Capacity
Mould Center Distance
Outer Dia. Of Die Mouth
Min./Max. Die of Product
Screw Dia.
AV-PBSS-905-O
Mouth-to-Mouth Bottle:
60-130cc
Non Mouth-to Mouth Bottle:
120-300cc
80*7mm
35mm
35-55mm
95mm
AV-PBSS-1005-O
Mouth-to-Mouth Bottle:
120-180cc
Non Mouth-to Mouth Bottle:
160-400cc
80*7mm
35mm
35-55mm
100mm
Specifications subject to change without notice.